Virtual Programming
Our Programming Response to COVID-19
 As an organization, health and safety has always been at the forefront of our mind because isolation and social distancing is an ongoing reality for many of our families who have a child with a life-threatening medical condition. For these families, the common cold and flu season can often become a very serious threat for immuno-compromised children. With the recent COVID-19 restrictions, all of our programming has temporarily ceased. As such, we are working towards creative ways to virtually bring together families struggling under added concerns the general population may not face during this time.
This quarantine has brought such a mixed bag of emotions. Sad that we have to stay home even more now but at the same time grateful that others may finally have a better understanding of what cancer families endure. I think it has brought a public awareness to hygiene that is a bit of a relief, for me at least. Now, it feels like everyone cares as much as we have had to. This situation also gives a small glimpse into what it is like for families, like ours, when your child gets cancer. Except this time, there are so many more resources available, like free virtual museum tours, online workouts, lesson plans, etc. I see many posting on social media about how sad they are for kids who are missing out on sport seasons, graduations and other milestones and I know their sadness. These are the things that Jack (and so many others like him) have been missing for years.
– Sherri T., Minnesota mom
Facebook Family Forum Events
Each HopeKids chapter has a Facebook Family Forum for parents to seek advice and find community. We will utilize Facebook live technology for families to interact with each other and enjoy fun activities such as:
Live Virtual Story Time
Spirit Week Photos (crazy hair day, pajama day, team spirit day)
Calming Jar Craft
Virtual Talent Show
Much, much more!
Zoom Meeting Events
HopeKids chapters will utilize the power of technology and our highly-talented volunteer, donor and event partners to help us host live, interactive events such as:
Cooking classes
Bingo Night
Professional Athlete Meet-and-Greets
Art, Music and Dance Choreography
Mom's coffee time
Much, much more!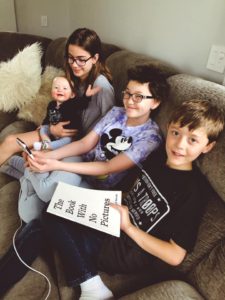 have a virtual Programming event Idea to share?

We are in search of interactive and engaging virtual events. Are you a professional athlete that can do a virtual meet and greet? Or a chef who can teach a cooking class? Can you host a game night or photography class? Be as creative as you want and share your idea to help us continue to provide hope for the future for HopeKids families.
At HopeKids, we still believe hope is a powerful medicine. Especially in times of uncertainty, we take seriously our mission to surround families with this message even when our plans fall through. HopeKids families often know better than most what it looks like to loosely hold the future and love each moment of every day.
Many of our spring fundraising events including our signature golf tournaments are being postponed or canceled. This threatens a significant proportion of our operating expenses to help families stay focused on the future.
Consider supporting HopeKids to help provide hope for the future to families who have a child with a life-threatening medical condition.