Community and Support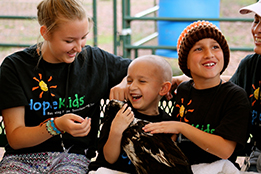 Social support is critical to a healthy life, especially when facing a child's life­threatening illness. In the midst of treatment, it is easy for families to become isolated, overwhelmed, and sometimes disconnected from their main sources of friendship and support. It is essential for families to meet others and broaden their networks with people who "get it".
HopeKids builds programs with the goal to drawing families together. We provide a unique, supportive and recreational environment for connection, sharing and encouragement. Our events foster lasting friendships and support among people who share similar challenges. Our families report that nothing is more powerful than one sick child meeting another who has recovered from the same condition. No HopeKids family is alone on this difficult journey.
"Every time we go to a HopeKids event I walk away with a new friend and don't feel so alone on this journey!"
It is well documented that people need community to thrive. One example is a study published in the Health Science Journal, "Social support is a very important factor in the confrontation of chronic illness. Children who are the recipients of support by parents and peers present considerably more improved capacities to adapt and show fewer behavioral problems compared to children that have only marginal sources of support." (1)

1. D. Theofanidis, "Chronic Illness in Childhood: Psychosocial Adaptation and Nursing Support for the Child and Family," Health Science Journal, Issue 2, April -­‐ June 2007, p 6.